Description
Kanga Kidz Multi Sports Program for children aged 2.5 to 5 years
We are Coffs Harbour largest and most reputable multi sport and exercise program for preschoolers (aged 2.5-5 years).
Our fun, physio-designed sport and fitness activities teach preschoolers the fundamentals of 9 different sports in a social, non-competitive, team-based environment.
Kanga Kidz seeks to promote a healthy lifestyle, develop a life long passion for physical activity and sport, decrease childhood obesity, increase confidence and prepare children for participation in school and the broader community.
.

'The main objective of the program is to provide

kids with the opportunity to explore a variety of different sports,

which

encourages them to pursue a healthy and active lifestyle.'
Kanga Kidz
* Introduces children to a variety of nine different sports in a structured, safe environment –
Hockey, T-ball, Soccer, Tennis, Athletics, Cricket, Basketball, Football & Golf
* Teaches children that sport and physical activity are fun
* Introduce and encourage age-appropriate gross motor skills, body awareness, improve hand eye co-ordination and listening skills* supply all modified age-appropriate equipment
* Small classes (max student/coach ratio 6:1)
* 45 minute group sessions $110 for an 8 week term
* Children are placed into groups which are based on both age and ability
* Free Kanga Kidz cap is given to every child in the first term they enrol
* Programs are held 6 days a week by The Harbour Tennis Academy at Westside Tennis Club, King St Coffs Harbour
Kanga Kidz also Provide:
Children Birthday Parties

School Holiday Programs

Pre-School, School and Vacation Care Visits (we come to you or you come to us)
CALL US TODAY FOR YOUR CHILDS FREE TRIAL LESSON!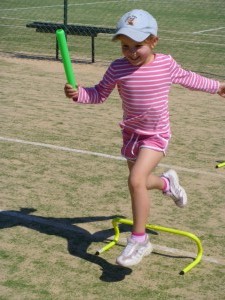 Categories
Holiday Programs

Lessons/Classes/Learning

Parties for Kids

Playgroup/Mother's Groups

Special Needs

Sports/Clubs/Associations
Cost Per Child
Free
$10
$20
$30
$50
$100
$100+